My Own Private Idaho
Submitted by Jeff on Thu, 06/14/2007 - 22:04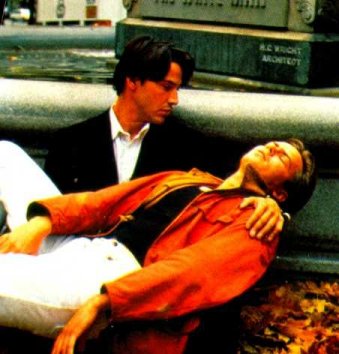 If you look at the original AFI list, almost all of them deal, in some way, with what Eric calls "American themes." Possible exceptions include The Third Man, the David Lean films and A Clockwork Orange, each arguably British, as well as 2001: A Space Odyssey, which is thematically nationless as far as I'm concerned.
Those titles aside, the list is full of movies about the frontier, the road, capital, idealism, greed, as well as classic American dilemmas like interventionism vs. isolationism and the outer limits of democracy.
This, I think, will change with the AFI's new list. As time goes on, it becomes harder to ignore classic films from the 1980s onwards. And it will therefore be harder to ignore "nationless" (globalized) films like 2001. The AFI will, no doubt, include movies like The Return of the King for the effect it had on American audiences (and it will qualify as "American" because of its financing). But it seems to me that including a movie like this misses the point of having a list of great American films. By the same token, it would also miss the point to include movies like Birth, Before Sunrise or Buffalo 66, fantastic films that will be excluded for the wrong reasons. The right reason to exclude them is that they fall more under the rubric of International Art Cinema than they do under an American national cinema.
On the other hand, it would be nice to see a film like My Own Private Idaho make the list. Despite the fact that it exhibits some of the hallmarks of International Art Cinema (non-narrative storytelling, central protagonist alienated from his society, foregrounding of visual style over narrative, long(ish) wide shots), it is also very much about America.
It is a road movie - one of the great American genres - that takes place over the span of America - Portland, Seattle, and of course, Idaho. But unlike most road movies, the viewer rarely sees how Mike (River Phoenix) travels from one place to another. Mike is transported while he is sleeping (he is a narcoleptic), but the effect (made possible by the magic of movie technology) mimics the effect of modern transportation (literally collapsing space by reducing the amount of time it takes to get somewhere). One minute Mike is on a road in Idaho, the next he wakes up on a bench in Portland. The experience of travel – once a mark of territorial expansion and conquest, so much a part of American mythology – is now more like a reverie. In modern America, the landscape is something to drift through as in a dream.
Mike's memories play a large role in the film, and he slips in and out of them (represented by 16mm stock footage) in much the same way he travels distances – he closes his eyes and then he's there. Mike's sexual identity works in a similar fashion; he is receptive to all forms of love. He is fluid.
The reasons that I initially fell in love with My Own Private Idaho had to do with idolizing the cool sensibility of River Phoenix and the other hustlers, even though I was not gay and never considered selling my body to anybody. It may have been River Phoenix's hair or Gus Van Sant's knack for photographing youth, but I think that the movie captures something essential about what it feels like to be a Young American of a certain generation – gay, straight, or fluid.
As good a job as the AFI initially did in picking quintessentially American movies, the majority of them tell very old American stories. It would be nice if the new list, rather than attempt to honor super co-productions that have made a lot of money in the United States, paid tribute to some of the smaller films that have told newer kinds of American stories.