Bloggish: Its Hard Out There for a Discoball
Submitted by Dan on Thu, 08/10/2006 - 00:31
in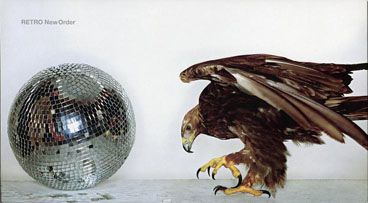 The discoball was the champion of the 70s, but like most things/people who enjoyed their heyday 30 years ago, they've fallen on hardtimes.
Nothing could show this more clearly than the mindblowingly awesome cover of Justin Timberlake's new album Futresex/Lovesounds which shows the dreamy JT smashing the heel of his wingtip right through the ball. Sorry Discoball, Justin's a child of the 80s and just doesn't understand you the way Cameron Diaz might.
But this isn't the first attack on the ball's hedgemony over the dancefloor. LCD Soundsystem's album had a drawing of a discoball missing a few mirror pieces. But even awesomer is the Peter Saville designed cover of New Order's Retro boxset (pictured) complete with an eagle about to attack an already mangled discoball.
On the topic of Futuresex/Lovesounds, produced by Timbaland, it seems Tim' is doing some work with Bjork:
"Whoo! The marriage, it's beautiful. You gotta hear it! A lot of people think it's weird her working with me, but I think it's how she sings on top of my beats that make it"
Bjork + Timbaland = Fire