Bloggish: ...but Jimmy Carter is Smarter
Submitted by booyahbaisse on Wed, 08/16/2006 - 13:35
in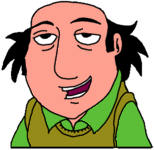 As you may have recently heard, President Bush chose l'Etranger as part of his summer reading and discussed the novel with talk show host his Press Secretary, Tony Snow.
Here's a portion of the transcript of the dinner conversation:
Snow: Well, Camus can do, but Sartre is smartre!
Jenna Bush [laughing]: So original.
Laura Bush: How droll!
George: Yeah, well, Scooby Doo can doo-doo, but Jimmy Carter is... smarter.
[A bale of detritus blows across the living room.]