The Second Annual Cosmodrome Thanksgiving Mixtape Parade, Brought to You By [Sponsor to be Named]
Submitted by
booyahbaisse
on Wed, 11/22/2006 - 00:24
As we did last year, and in a celebration of Cosmodrome's second year of operation*, we bring you the Second Annual Cosmodrome Mixtape Parade. (*Cosmodrome is citing the United States' best (only?) non-religious, non-nationalistic, days-off-work-for-all holiday as its New Year.)
On Thanksgiving at the Cosmodrome, people of all kinds come together. Dead or alive, genius or stupid, everyone's involved. Be they Soviet mass murderers/premiers, proclaimed Jesuses of American politics, beautiful Ukranian revolutionaries, Ohioan US Congressman, or kissing rappers, they're all invited.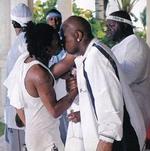 Really though, what else are you going to do this weekend? Some of you may venture to faraway places, others may do nothing, still others may travel and do nothing - but all of us will need some tunes to help pass the time between Wednesday and Monday. Don't deny it. Even if you plan to spend the whole weekend watching television, saving up fat for winter, fucking, finding an acceptable drunken/drugged stupor, or celebrating the Cosmodrome year passed, these electronic music files will enhance your weekend. Thank us.
Without further ado, the staff of Cosmodrome present you the 2006 Cosmodrome Mixtape Parade.
Dan: Gorgeous Gorging Vol. 2: Soul Food Edition
Jeff: Janet Jackson & Friends
Mwang: Thanksgiving Mixtapes, Year II: gnawed commodities (turkey?)
Booyahbaisse: Reggaetronics, or Sometimes it's Necessary to Listen to the Great Black Men
Mahoney: Takeover: Q4 '06