Lazy Sensation
Submitted by
booyahbaisse
on Tue, 03/20/2007 - 23:49
It's been pretty quiet around these parts lately. So here's some music. This (short) mix is a little lazy, a little Michael Hutchence (read: not lazy).
Files here.
1. Silversun Pickups: "Lazy Eye" (Curtis Vodka Edit)
2. Juvelen: "Watch Your Step" (Krazyfiesta Remix)
3. Studio: "Origin (Shake You Down By the River)" (Yearbook)
4. Gorillaz: "El Manana (Metronomy Remix)"
5. Frankie Valli: "Beggin' (Pilooski Edit)"
6. Björk: "There's More to Life Than This" (Debut)
7. The Primitives: "Lazy" (Lazy, 1986-1988)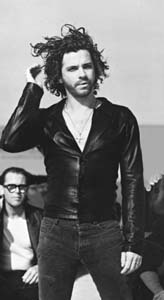 8. Delta 5: "You" (Singles and Sessions 1979-1981)
9. INXS: "New Sensation" (Kick)
10. Michael Jackson: "Remember the Time" (Dangerous)
11. Air France: "Beach Party" (On Trade Winds)
12. The The: "This is The Day" (Soul Mining) [*Note: I'm pretending that Dockers ad never happened.]
13. Ornella Vanoni: "L'Appuntamento"
14. James Brown: "A Cottage for Sale" (Ballads)
[Photos: Polar Bears attacking submarine from this highly recommended link and Michael Hutchence from here.]